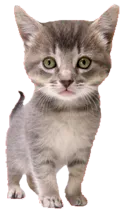 When your pet means so much to you and your family, don't take him or her to just any animal hospital for care and vaccinations. Take your beloved pet to Urban Pet Hospital in San Francisco, CA for local veterinarian pet care and medical services. The team at Urban Pet Hospital offers comprehensive wellness services, but when the going gets tough, we are skilled in internal medicine, dermatology, dentistry, and surgery. Plus, we maintain excellent relationships with nearby specialists in the event your pet needs to be referred for specific care.Our pet hospital is equipped with digital X-ray, ultrasound, and in-house laboratory equipment to get the answers you need, and fast. We specialize in pet dentistry, internal medicine, and dermatology.
Your dog or cat means the world to you. No matter if you've had your cat for 10 years or perhaps you've only been a dog owner for a week, all pet lovers need a reliable vet clinic to count on. This is why our team offers emergency vet services for dogs and cats. Call us at any time for service and we will help.
In addition to our listed services, we offer trusted veterinary specialist referrals, chemotherapy and cancer treatment as well as microchip pet identification.
Emergency Vet Services & More!
For a better idea of how we can help you and your pet, please take a look at our services and learn more.
Preventive Services
Wellness & Vaccination Programs
Medical Services
Surgical Services
Anesthesia & Patient Monitoring
For emergency veterinary service, please call us at (415) 400-5754. Or, schedule your next appointment today and make sure your dog or cat is healthy!
---
We're pleased to offer the following services at Urban Pet Hospital:
Our appointment book is computerized, which allows us to efficiently make appointments for you and your pet. Our receptionists and team will attempt to accommodate all requests to the best of our ability. Emergencies are accepted anytime our clinic is open. If you feel you have an emergency with your pet, please call us or come in immediately. If possible it is best to call before coming in so that a staff member can advise you on your particular emergency.
We have a veterinarian and personnel on duty six days a week who are trained and equipped to handle any urgent care your pet has. Usually an emergency team consists of at least one veterinarian and several technicians working together to save a pet's life. Emergencies can be things such as accidental ingestion of rat poison, hit by car, and chocolate ingestion. If you ever feel that your pet needs emergency treatment do not hesitate to call or come in immediately.
We are also available for urgent care when the condition is not life-threatening. If you feel your pet needs to be seen before you are able to get an appointment, our veterinarians will work to "squeeze" you in between scheduled appointments. When you arrive, our receptionists will be able to give you an estimate on how long you may have to wait in order to be seen.
Because a large number of veterinarians practice at Urban Pet Hospital, we can care for many types of pets:
Dogs
Cats
Rabbits*
Pocket Pets*
Reptiles*
Birds*
Small Farm Animals*
*Select veterinarians only. Call us for more information.
Urban Pet Hospital offers discounted services to senior citizens and local area rescue groups. Pre-approval is required to qualify for the rescue group discounts, please call us for more information.